---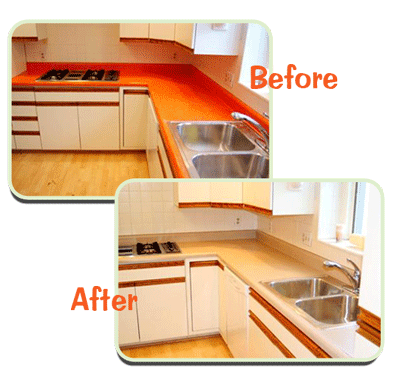 Refresh and Beautify your Kitchen for Less
Do you have countertops, tile and appliances that are out of date colors, but you just can't afford to replace them all in a remodeling project? Kitchen refinishing can be easy and inexpensive with Hardtops. Hard Tops has the technology and service that you have been waiting for.
We can bring a whole new look to your kitchen for a fraction of what it would cost to replace all of those items simply by applying our state-of-the-art process for kitchen refinishing and recoloring.
Coordinate With New Decor
Enhance Sanitation
Durable Chip-Resistant Surfaces
Safe, Convenient, Hassle-Free
Next day use
Friendly Customized Service
With our state-of-the-art technology for applying new coatings, you can have a whole new look in your kitchen in one day!
---
You'll love our No-Nonsense Guarantee!
We refinish:
Countertops
Porcelain Fixtures
Fiberglass Fixtures
Ceramic and Metal Tile